Free your Timecode
FreeTime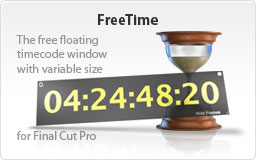 FreeTime is the large timecode window for Final Cut Pro* (Version 5.x to 7.x). It shows the current timecode from Viewer or Canvas.
The main window of FreeTime always floats above all other windows, it can be freely positioned and scaled on the attached screens.
During the work in Final Cut Pro* the window controls of the timecode window are hidden. Only the size box is always visible.

More Features
Turn display of frames on/off
Translucence of the window can be set continuous, from 100% (not transparency) to 10% (nearly invisibly)
Freely selectable font and background color
Supports every TrueType Font
Find the TC window

If the timecode window should be lost, it can be placed back – in standard size and standard translucence – on the center of the main screen. Use the option in the window menu or the shortcut "Command W".
Notice: During Capturing, "Print To Video" or "Edit To Tape" FreeTime does not indicate a timecode.

Not every font is suitable font. Try and find out wich font works the best for you.

System Requirements
Final Cut Pro* 5.x to 7.x
Download Details
Name:

FreeTime

Version:

1.0

Language:

english - Manual also in german

License:

Freeware

File Size:

5,5 MB
Download
* Final Cut Pro is a registered trademark of Apple Inc. All rights reserved.